Smart Wearables Global Market
2022-08-29
The global smart wearables market is expected grow from $18.08 billion in 2021 to $20.64 billion in 2022 at a compound annual growth rate (CAGR) of 14.1%. The market is expected to reach $31.95 billion in 2026 at a CAGR of 11.5%.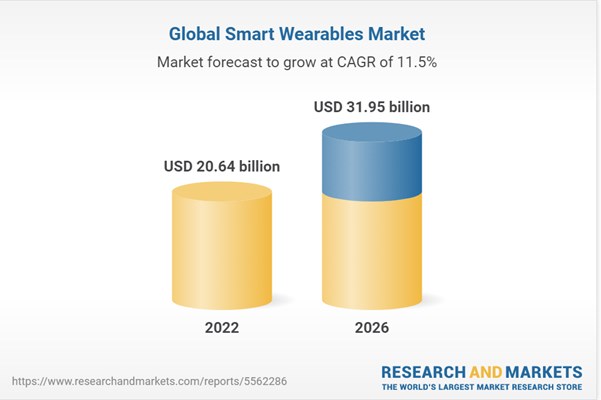 Major players in the smart wearables market are Apple Inc., Samsung, Google, Xiaomi, Nike, Motorola Solutions Inc., etc.
The smart wearables market consists of sales of smart wearable devices and related services for tracking vital pieces of data related to the health and fitness of the human body. Smart wearables are any form of an electronic device intended to be worn on the human body. Here are 6 main smart wearables.
Smartwatches
Smartwatches are likely the most commonly-known and most commonly-used smart wearables in the workplace today. Connecting a smartwatch to a smartphone enables the wearer to read and send new messages from their watch, eliminating the need to hold and view one's phone.
Smart Jewellery
Smart jewelry is the logical conclusion of ongoing research into how to include health-tracking capabilities in small smart wearables. The most prominent kind of smart jewelry (as of 2021) might be the smart ring.
Fitness Trackers
The modern successor to pedometers, fitness trackers are the next of the wearable technology examples. They monitor steps taken, heart rate, calories burned, and a range of other fitness metrics.
Smart Clothing
By making contact with a larger amount of one's body, smart clothing can provide deeper insights than other examples of modern wearable technology can, enabling advanced tracking for both medical care and lifestyle improvement.
Enterprises have also begun to use smart clothing as a way to generate brand loyalty. In a unique example of wearable technology, Tommy Hilfiger experimented with adding location-tracking functionality to its Tommy Jeans Xplore line of clothing. This enabled the clothing to track how frequently the customer wore it, so Tommy Hilfiger could reward frequent wearers with more Tommy Hilfiger products.
Implantables
Implantables make contact with the user's body from the inside, rather than on the skin. For instance, the now-bankrupt company Proteus produced sensor-containing pills that could monitor blood pressure and other health metrics; after the patient swallowed the pills, they could wear an external device to easily monitor the data generated from within the body. In the near future, smart tattoos may also become available for patients who want an easy way of ensuring that they always remember to bring their monitoring devices with them.
Head-Mounted Displays
As the name suggests, head-mounted displays (HMDs) are a bit bulkier than most wearable computing devices. They go on the head and provide a display in the user's field of view, such that the user can use the device without needing to look down at a phone or smartwatch display. HMDs can provide one of several kinds of experiences for users: HMDs can function as monitors, provide information superimposed over reality via AR, or completely immerse the user in a VR setting.
Shenzhen GetD Technology Co., Ltd, subordinated to the Future 3D Group, is committed to the R&D, production and sales of smart eyewear. GetD has own factory, equipped with high-level laboratory and production lines, as well as advanced R&D talents. Depending on reliable production process and SOP control, covering program development, product integration, SMT and assembly, GetD provides qualified products and services.
Current core products include 3D glasses and smart eyewear. The products range from smart translation eyewear, smart sports eyewear, smart electronic sunglasses to smart myopia and amblyopia treatment glasses, smart video eyewear, smart AR&MR eyewear.